Manchester united came from behind to win a sensational 3-2 over Premier League side Arsenal.
In a race against time, the team dubbed "the comeback champions" came from behind to win at home ground.
Arsenal took an early lead through Emil Smith Rowe in the 13th minute from a corner before Goals from Bruno Fernandes and Cristiano Ronaldo Put United back to track and into a winning streak.
Cristiano Ronaldo drove Manchester to the lead in the 53min through an assist from Marcus Rashford. This was harrowly celebrated as Martin Odegaard equalized in the 54th minute.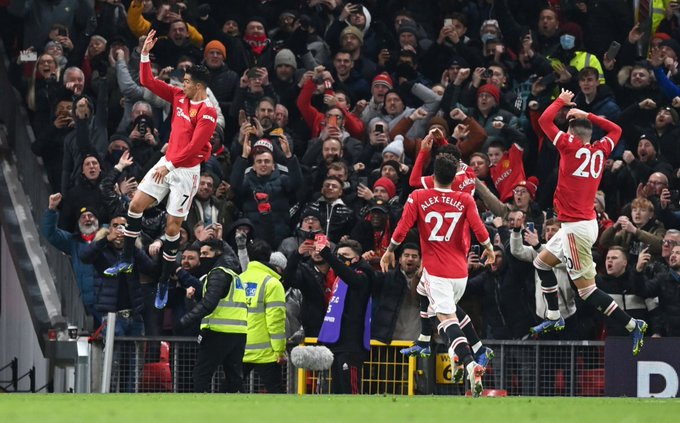 United took the lead in the 70th minute after Cristiano Ronlado scored from the penalty spot, making it 3-2. This was after Martin Odegaard was penalized for tripping Fred in the box area.
ALSO READ:
Scot McTominay was booked for rough play against Thomas in the 46th minute. Neither did any of the player get injured nor be sent off for a fowl committed.
Arsenal who occupied most possession of the game, lost many chances and great opportunities to score, giving Manchester united opportunities to overrun them
With the win, United have risen in the ranks up to the 7th position, this places them 12 points behind league leaders Chelsea. United craved for the win to revive their hopes for the champion league slot. This was the third and probably the last match in which Michael Carrick was in charge and it turned out 100% for him.
Meanwhile Tottenham jumped back from premier league frustration, after thrashing Brentford 2-0 at in their game. This is after a goal from Son and an own goal from Sergi Canos secured Tottenham the leading spot.